Skip to Content
Types of Landscaping Materials We Carry at Starr Turf
Whether you need top soil, mulch, sod, grass, or gravel, you've come to the right place. Recognizing the importance of providing landscaping materials that can withstand the intense Texas heat, we're proud to be the preferred grass and sod supplier for many households and commercial facilities in the Dallas-Fort Worth region. From gorgeous deep-green Bermuda grass to the resilient St. Augustine and Zoysia varieties, Starr Turf Grass Inc. offers a wide selection that sets us apart from our competitors. We carry all the following landscaping materials and more:
Sandy Loam/Top Soil – This multi-purpose soil is ideal for leveling, laying new sod, and/or foundation repair around houses. Loam soils offer nutrient and moisture advantages over sandy soils, making them easier to till.
Cushion Sand – This type of sand is generally used as a base for patios, so that they settle evenly. Adding a layer of cushion sand also promotes better drainage.
Masonry Sand – Masonry sand can be used visibly, or it can be mixed with cement for a finer finish. Because masonry sand has a finer consistency, many prefer its look over concrete sand.
Pea Gravel – These small, smooth pebbles can be colored and mixed to create beautiful, eye-catching mosaic walkways and beds. Pea gravel offers a smooth texture because it's been uniquely weathered.
Cedar Mulch – This lightly-toned mulch lasts a long time before decomposing. Cedar mulch also adds valuable nutrients to the soil and requires little maintenance. A lot of our customers enjoy the rich aroma it adds to their gardens and other landscaping features.
Red and Black Mulch – These richly-colored mulches look attractive and are beneficial for plants. If you plan on planting brightly-colored flowers, a black mulch will help them stand out. However, black mulch will also reflect more of the Texas heat than red mulch, so choose wisely.
Bedding Soil – Different soil combinations favor different plants. This multi-purpose soil is suitable for growing garden crops and plants because it's so rich in nutrients and helps ward off many plant diseases.
Road Base – Large, rugged chunks of limestone are often used to create a defined look. Crushed stone and gravel driveways make a popular alternative to asphalt due to their cost-effectiveness and attractive appearance.
Decomposed Granite – This soft, crumbly material comes in a variety of colors and is used in everything from driveways and walkways to patios. It's also inexpensive and easy to maintain.
Landscape Stones – Natural stone comes in many shapes and colors to help you create a rustic look and feel on your property's walkways, patios, and water features. We carry flagstone, river rock, and boulders for all your landscaping needs.
Benefits of Starr Turf Grass Inc.'s Landscaping Services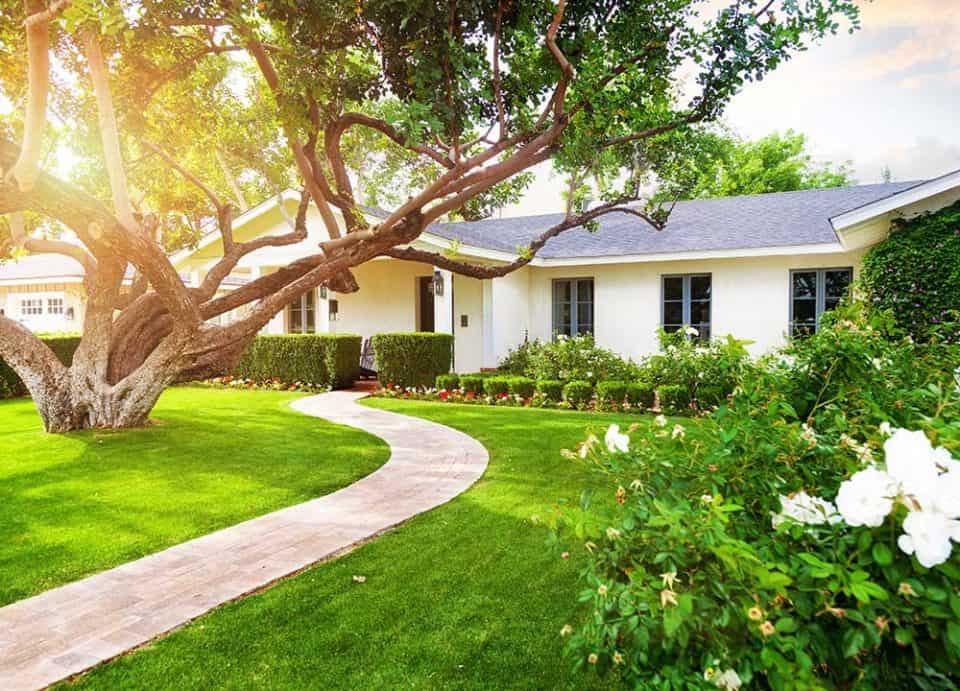 Besides being aesthetically pleasing, a lush landscape is also beneficial to the environment. Planting additional trees, grasses, and shrubbery removes harmful carbon dioxide and replaces it with healthier levels of oxygen in our atmosphere. A single tree provides enough oxygen for up to four people to breathe per day. Strategically planting trees also shades your property, so you can enjoy relaxing in your yard even on the hottest summer day. Being able to spend time outdoors offers numerous health advantages, both physically and psychologically, for people of all ages, especially those locked in an urban area. Extra shade also limits the amount of sunlight streaming in through your windows to lower your home's temperatures without as much dependence on your air conditioning. That results in energy savings, making an investment in landscaping a wise decision. And if you own a business, you're more likely to attract customers if you present a professional, positive image that welcomes them!
Get a Free Estimate on Landscaping Materials or Services
At Starr Turf Grass In, we believe the quality of our landscaping services and materials speaks for itself when you view our before-and-after photos from past projects. Our team would be happy to provide you with a free estimate on our landscaping materials and services in the Dallas-Fort Worth, TX area. Whether you're interested in our sod laying skills or our landscaping design expertise, please contact us to get started on developing your dream residential or commercial landscape!
Skip to main contentSkip to toolbar About WordPress Starr Turf Grass Logo 00 Comments in moderation New SEO11 notification Forms Howdy, rachel.li@reachlocal.com Log Out Screen Options Site Options Move upMove downToggle panel: Publish Move upMove downToggle panel: Site Options Branding Header Footer Menus Forms Blog Company Admin Page Defaults Animations Page Modules Google API Key AIzaSyDEzZEskQE7NBx7dMZARNW_FTIK24aIoK0 Google Analytics ID UA-58072011-1 Header Scripts Footer Scripts Custom CSS Reach Local - Service Out Slow v2.4Version 5.5.3