Skip to Content
Landscape Stone & Rocks in Sunnyvale, TX
Our Selection of Landscape Stone and Rocks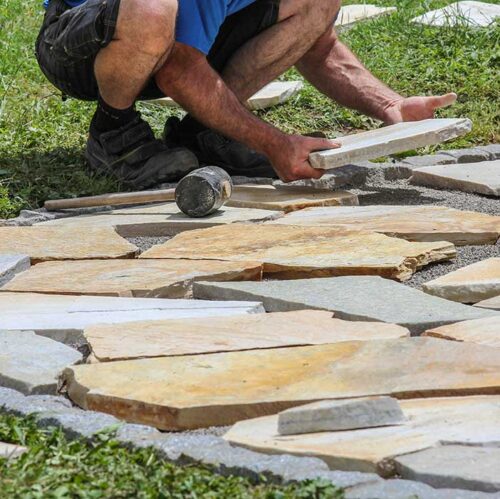 Natural stone has long been a favored landscaping material among DFW properties and offers many ways to vitalize your landscaping. At Starr Turf Grass & Stone, you'll discover a great selection of landscape stones and rocks that will provide plenty of possibilities to enhance your property. Our inventory of landscape stone and rocks include:
Flagstone – Flagstone is a classic variety of natural stones that is extremely versatile. You can find many different colors and shades of flagstone, ranging from light beige to dark grey.
River Rock – River rock is aptly named because it resembles the smooth rocks often found in waterways. These small stones are perfect for walkways, rock gardens, and other attractive yard features.
Boulders – If you're looking to accent your yard, installing large boulders is a great decision to make. Boulders look wonderful in flowerbeds and water features and can help make your lawn look more like a natural scene.
Set the Tone With Hardscapes and Stone
If you don't think natural stone has a place in your landscaping, think again! There are so many types, shapes, and colors available that you're bound to find a way to incorporate landscape rocks and stone to bring your outdoor space to life.
Our medium-sized, smooth stones are great for stone pathways and lining outdoor ponds. We can use moss to add age and character to create a rustic look and feel. If you are interested in larger, jagged stones, we can use our flagstone materials to create ornate, multi-tonal walkways. Our selection of stones and boulders comes in a variety of colors and sizes to fit your particular needs.
Walkways – Flagstone and river rock both lend themselves well to landscape walkways. In addition to establishing easy and convenient access to all areas of your property, a natural stone walkway can make your outdoor environment more aesthetically pleasing.
Patios – The Dallas area is blessed with decent weather for much of the year. An elegant patio made of perfectly fitted flagstone can make it easy to relax and enjoy warm Texas evenings with your guests and family members.
Water Features – Natural stone doesn't necessarily need to serve a practical purpose in order to be in your yard. Many homeowners enjoy building fountains, ponds, waterfalls, and other water features and hardscapes out of natural stone.
Your Trusted Source for Quality Landscaping
Since 1986, Starr Turf Grass & Stone has taken pride in serving the Dallas-Fort Worth area with quality landscaping solutions. Whether you're a do-it-yourselfer planning an outdoor project for your home or would like a team of professionals to revitalize your property for you, we have the experience and resources to satisfy your every landscaping need. We are dedicated to providing the premium landscaping supplies and services our customers deserve. Let us help you make your landscaping dreams a reality. Get in touch with us today and discover the best in the landscaping business.
Contact us about our grass, landscape and stone products.
We offer free estimates for all materials and services!