Skip to Content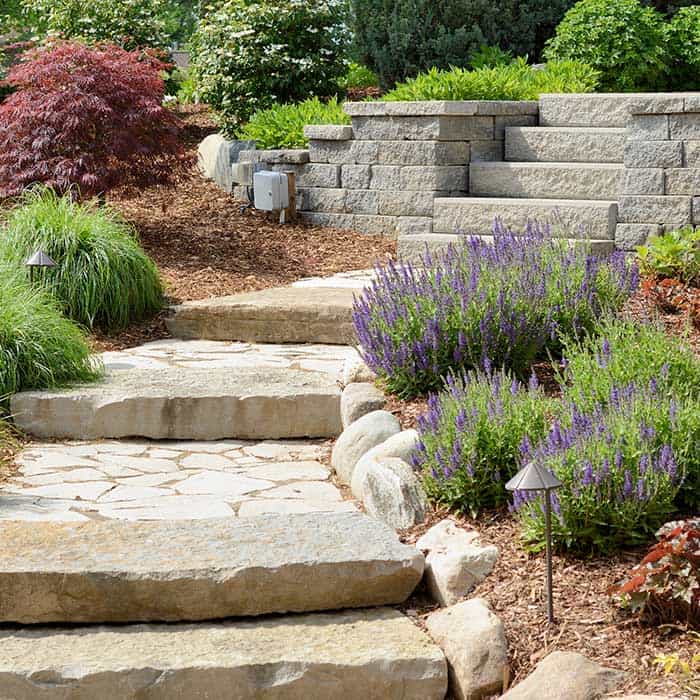 Our Landscaping Process
Our staff is friendly, highly competent, and always willing to serve your yard with our high-quality sod, grass, rock, stone, and the following hardscape and landscaping services:
Design: Each project begins with our specialists visiting your property to go over what you wish to see in your yard. We then provide a free estimate for all the necessary landscaping services and materials.
Purchasing: Leave all the purchasing to us. We will handle procuring all the plants, mulch, rocks, sand, and more for your hardscaping and landscaping services. By helping with this step, we can safeguard you from buying faulty materials or ones that will not thrive in your yard.
Installation: Once purchased, we will deliver all the landscaping materials to your Sunnyvale home and get them installed properly. This is often where many DIY landscapers make mistakes and ruin the plants, sod, or grass they've purchased.
Maintenance: After we leave, there is maintenance each piece of landscaping materials will need to maximize their lifespan in your yard. We can set up regular visits from care to keep your yard looking its best in every season. We can also remove and restart the process depending on the time of year.
Available Landscaping Materials for Your Sunnyvale Yard
Using our knowledge of the Sunnyvale climate, we only provide landscaping materials we know will thrive and be sustainable, so you do not waste money. Many other landscaping service providers will offer options not suited for the amount of sun and precipitation we receive in Texas. Check out some of the landscaping materials we have for you to choose from when building out your new outdoor paradise: Sandy Loam/Topsoil, Cushion Sand, Masonry Sand, Pea Gravel, Cedar Mulch, Red, and Black Mulch, Bedding Soil, Road Base, Trees, Shrubbery, Plants and Flowers
Why Choose Starr Turf Grass & Stone
Starr Turf Grass & Stone provides our customers with start to finish landscaping services. Meaning from the initial consultation until the last piece of sand is pushed in place or a blade of grass is planted, we are there for you. Using our industry knowledge, we can help you choose all the right pieces to match your current aesthetic or go bold for something new. Having curb appeal is not just for those looking to sell their home. It also fills you with pride every time you pull in the driveway or step out into the yard in the morning. Another benefit of working with our team is finding the best landscaping materials to match your budget. Many think the best means it has to be expensive, but that is not always the case, and Starr Turf Grass & Stone ensures you can afford your dream space.
Benefits of Receiving Landscaping Services
Receiving professional landscaping services saves you time and money when attempting to achieve your lawn and property goals. Whether looking to spruce it up for you and your family or to put your house on the market soon, Starr Turf Grass & Stone can help. Outside of the aesthetics of a great yard, having these gorgeous displays and lawns can help the environment. Planting more trees, shrubs, bushes, and healthy grass will remove harmful carbon dioxide and replace it with oxygen. You can also improve your psychological health by stepping outside and getting the fresh air.
Call Starr Turf Grass & Stone Today For a Free Estimate
When you are ready to begin receiving the best landscaping services and materials in the Sunnyvale, TX area, we will send one of our specialists out to your home to perform the initial consultation and follow it up with a free estimate on all services. Trust the experience and knowledge of our well-qualified team to help you bring your property to life with these new hardscape and landscape options.