Skip to Content
Types of Grass at Starr Turf Grass & Stone
Trust Starr Turf Grass & Stone for an Amazing Lawn
When attempting to build your lawn up, it is crucial to rely on a professional team that understands Dallas Fort Worth to choose the right one. Starr Turf Grass & Stone has worked on lawns in the area for over 25 years. Having worked with this soil and lived within the climate, we can help you pick out the perfect type of grass for your lawn. Our team of experts can also help you with watering schedules and lawn treatments to ensure healthy and plentiful growth. You can rely on us for any questions you may have about your lawn and the care it needs for longevity and plushness.
The team at Starr Turf Grass & Stone can also help with any other landscaping needs you may have. While we specialize in planting the correct type of grass for your needs and wants, we can also help design and implement other items such as bushes, trees, flowers, and more to create something truly unique and beautiful for your property. Call today to speak with our designers and installers to get started on your new project.
Available Types of Grasses for DFW Homes
We aim for 100% satisfaction with each lawn we help plant. Picking out the correct grass species is a significant investment because choosing the wrong one leads to money and time lost attempting to build a healthy lawn. Having worked and lived in the Dallas Fort Worth area for as long, as we have, we understand which species work well with the climate to give your lawn the best shot at survival. Below are some of the types of grass we will go over in our consultation: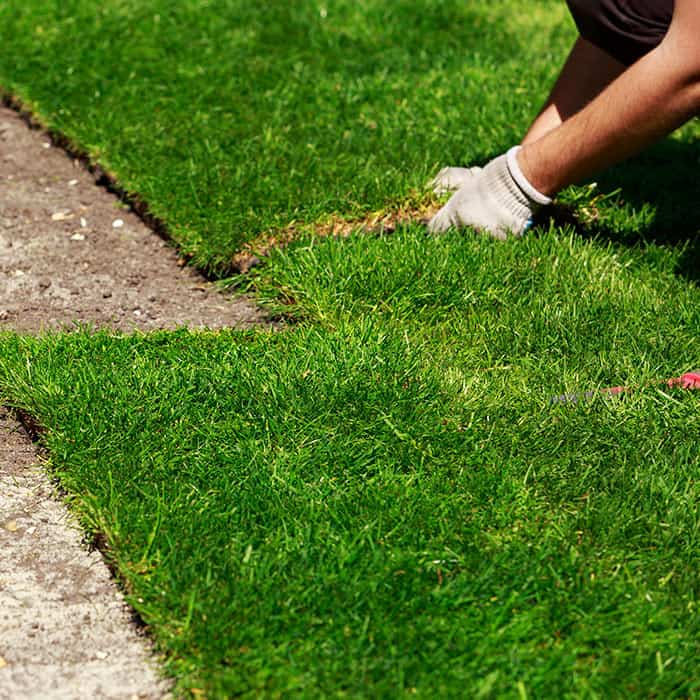 The seed produces thick blades with a medium blue-green color.
There is no better grass option for the sun and heat Dallas Fort Worth experiences throughout the year.
While Raleigh St. Augustine does very well in the shade, the Palmetto variety performs exceptionally well in the shade.
Its dense coverage helps prevent weeds from breaking through and ruining your yard
The seed produces fine blades with a deep green color.
The grass does require full sun exposure for proper growth.
We also must propagate them from sprigs or sod.
Its dense growth suppresses weed from reaching the surface.
This strand is also resistant to particular grass-killing diseases.
Most popular on golf courses and sports fields in the North Texas area.
The seed produces a thick lawn with medium-broad textured leaf blades.
They are gaining popularity thanks to their resistance to disease and insect infestation.
Lawn requires less water and fertilizer than St. Augustine.
It also grows much thicker than the St. Augustine variety.
While it can be drought-tolerant, the lawn may turn brown if it does not receive enough water.
How to Install These Types of Grasses
The Starr Turf Grass & Stone team comes equipped with industry-leading tools when you hire us for grass installation. After discovering which type of grass would be best for your lawn and landscaping, we will quickly get to work so you can enjoy running through the yard and begin your mowing regiment. There is nothing better than coming home to a gorgeous, luscious, and green lawn. We also help you find a type of grass that benefits you best, including ones that will be resistant to chemicals, bugs, weeds, and more. We'll begin the installation by measuring your current yard to ensure you don't over-purchase any materials. Our trained technicians will also remove and kill any old grass to make way for the sod patches. Once gone, we can start prepping the soil and leveling the earth to lay then and roll out your new sod. For the final step, the installation team will fertilize and water your lawn. You can count on us to give you maintenance tips and tricks to ensure your lawn looks as beautiful as you imagined it always would.
Why These Types of Grasses and Their Benefits
Purchasing a new lawn can be an intense time, but thankfully our experts will be by your side from consultation to installation. We use these three types of grass because they have been proven to grow strong. Factors such as shade, chemical, and weed resistance make them all great candidates. It will be your personal preference that makes the final decision. If you're looking for low maintenance, St. Augustine is your best option. Our Bermuda choices help keep bugs away, which may infest and destroy your lawn. Zoysia grass carries both benefits of deterring insects and is low maintenance when it comes to watering and mowing. With our over 25 years of experience, you can count on us to ensure your satisfaction with your lawn installation.
Reach Out to Starr Turf Grass & Stone For Further Lawn Care
Call on Starr Turf Grass & Stone when you are ready to begin your search for a stellar new lawn. You get guaranteed satisfaction when working with our professionals. Having a healthy and happy lawn is one of the greatest joys of homeownership. With our different types of grass, you can do cartwheels, play yard games, and more, knowing your family and landscaping will be protected from bugs, drought, weeds, and more. Reach out today to begin the process and get your consultation scheduled.
Contact us about our grass, landscape and stone products.
We offer free estimates for all materials and services!