Skip to Content
Sod Laying Services in DFW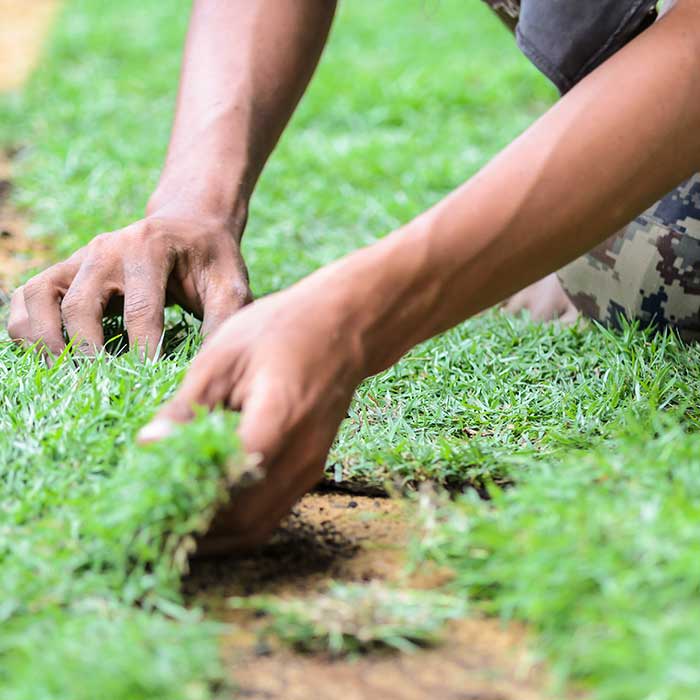 What You Should Know
Sod is many homeowners' first choice when it comes to low maintenance landscaping, and knowing how to lay sod properly can help you enjoy years of fertile growth.
When to Lay Sod – If you want to make the most of your sod, you can start by laying it down at the right time. The best times to lay sod are just before and after the summer.
How It Works – After preparing your soil and leveling it off, you can put down the first row of sod using a straight edge; adding the rest of the rows alongside, staggering your lines of sod as you go.
How Long It Takes – The amount of time it takes you to lay sod depends on a multitude of factors, including the size of the area to be sodded and the amount of people you have helping you.
How To Take Care Of It – To best take care of your newly laid sod, you will need to water, mow, and fertilize your new lawn for it to thrive. Our experts will give you all the information you need to take care of your new sod.
Contact us about our grass, landscape and stone products.
We offer free estimates for all materials and services!
Skip to main contentSkip to toolbar About WordPress Starr Turf Grass Logo 00 Comments in moderation New SEO11 notification Forms Howdy, rachel.li@reachlocal.com Log Out Screen Options Site Options Move upMove downToggle panel: Publish Move upMove downToggle panel: Site Options Branding Header Footer Menus Forms Blog Company Admin Page Defaults Animations Page Modules Google API Key AIzaSyDEzZEskQE7NBx7dMZARNW_FTIK24aIoK0 Google Analytics ID UA-58072011-1 Header Scripts Footer Scripts Custom CSS Reach Local - Service Out Slow v2.4Version 5.5.3